Balloon Twisting Workshop By Magic Glen
The Balloon Twisting Workshop is more suited to children 6 years – 13 years old. The first half of the workshop the kids are taught how to make a balloon animal dog, sword and a belt to store their goodies and then a few more instructions are given before the kids tear into making their crazy balloon hats. We ususally do a parade at the end, and wow, what a great photo opportunity!…be sure to have a camera ready, it will be the most colourful photo you have ever taken.
The 30 minute Balloon Twisting Workshop is a big, bright, bold, colourful 'hands on' activity for kids.
The workshop can be booked with or without a birthday party magic show.
​
A few reasons why I love the balloon twisting party
Kids are constantly being told to 'do this' or 'do that', its just part of being a kid but this balloon twisting workshop which could be called the 'freedom workshop' because after the kids have been given a few simple balloon twisting instruction they are left to their own divices to be as creative, funny or silly as they like. The kids get to make their own balloon hat creations, they get to go nuts twisting the long colourful balloons to whatever shape they want and the most awesome thing is, that whatever the crazy balloon hat looks like, they love it!…because they made it…it is all their own design. I just love the fun, creative and 'hands on' aspect of the balloon twisting workshop.
The big, fun, colourful, interactive  balloon twisting workshop is
$350 for up to 20 kids or $195 if booked with a birthday party magic show
Roving Balloon Animal Twisting For Kids & Adults
Birthday Parties | Fetes and Festivals | Community Events | Trade Shows | Promotional Events | Corporate Events
Roving balloon twisting is a fabulous way to add big, bright, bold colour and a fun atmosphere to your event. As you can see I specialise in making high quality interesting balloon creations. I use balloons as a tool to entertain with lots of comedy and participation. Sorry, but I do not do requests, there are many reasons for that which I am happy to explain to you, instead I get people involved, holding different parts of the creation, trying to guess what I am going to make, lots of laughs along the way until I finally fit all the parts together to make a super cool balloon creation . Entertaining balloon twisting – that is my goal.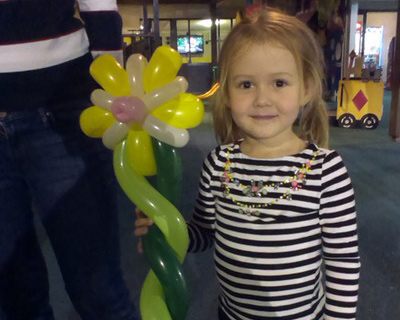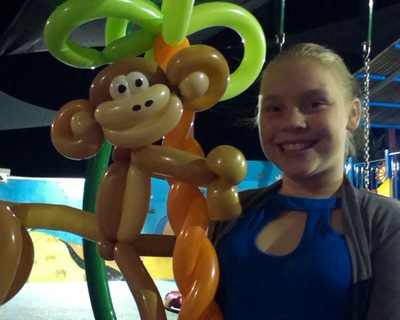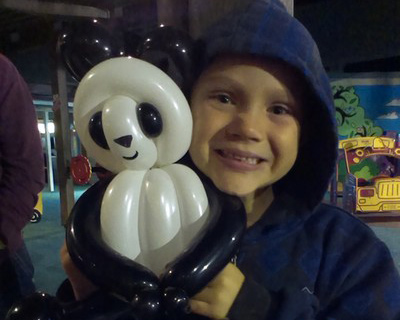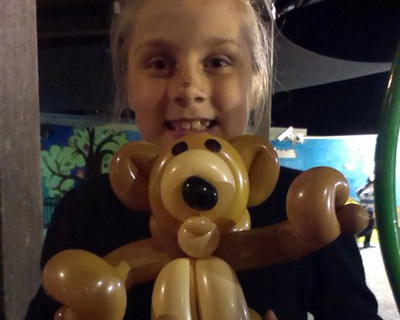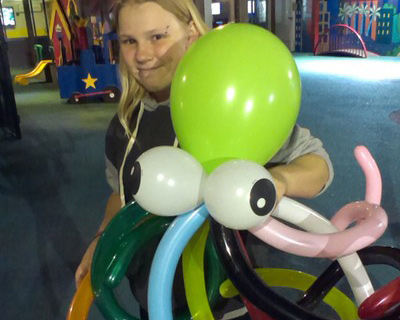 Roving Balloon Animal Twisting for Adult and Corporate Events
 Trade Shows | Promotional Events | Corporate Events | Parties | Fetes and Festivals | Community Events|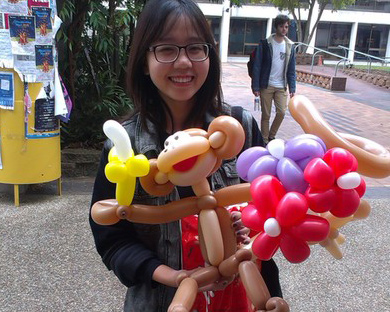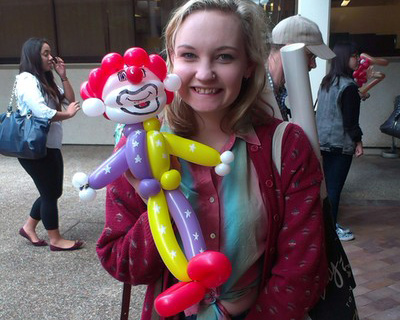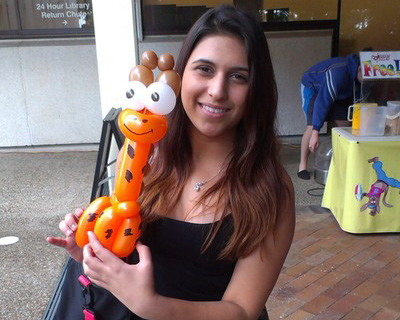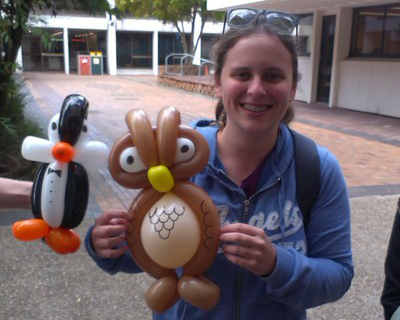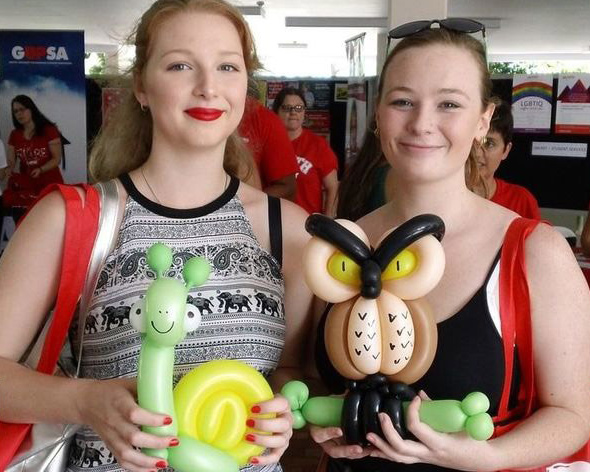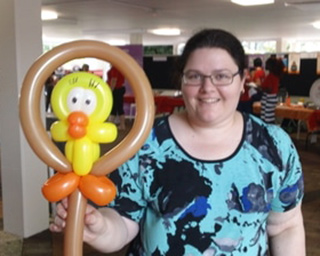 Roving balloon twisting cost depends on duration and location. Minimim cost is $250
​"

Brisbane Balloon Artist, Balloon Twister or Balloon Bender"…I have been called all these things. Don't go thinking that a balloon animal twister is only for kids.
 I have been twisting balloons at corporate events for many years and adults are fascinated by what can be made from a straight balloon.
Very young children do not appreciate the skill and time that has been dedicated to make an awesome creation…but adults get it…and they love it.
To bring balloon art to a new level that adults appreciate I also combine the balloon art with comedy, yes lots of gags, lines, bits of business and funny things you can do with balloons. Balloon art becomes 'Entertainment'
There will be no dull line of people queuing up but instead it will be like a mini comedy show with lots of people assisting, holding onto balloons, trying to guess what I am making then the ooohs and aaghs as I slowly assemble the creation.
Wearable balloon art is popular and colours can suit a corporate theme. Hats, belts, jetpacks, bracelets, fairy wings and many more items can really create a sense of fun at any corporate event.
Balloon art is Big, Bright, Colourful and Creative.
Balloon art can also be interactive, everyone gets a balloon, follows my instructions and makes their own creation, prizes can be awarded to the best, funniest, strangest creation. It's a 'hands on' activity that can really get everyone involved, interacting and laughing.
I also should point out the fabulous photo opportunities with people proudly displaying their creations, you will not get a more colourful fun photo.
Of course, if you are arranging a promotional event…(I have made Minions for the new movie, Super Mario's for EB Games) or a store opening, then I can customise my creations to suit. I can guarantee that my balloon creations will have a big impact on your customers, young or older.
Christmas is coming up and I have many Christmas themed balloon creations that will be sure to impress at your Christmas party 🙂
Can all this text go to the very bottom of the page Balloon Animals
Another popular kid's birthday party option is balloon twisting. Now I know it seems like a great idea to get someone to make a variety of balloon animals, and sometimes it is, but mostly for a kids birthday party, based on 17 years in kids party entertainment and 3000 magic shows, I have found that if all the boys get one type of balloon animal and all the girls get a different type then everyone is happy. No arguments, no tears, no disappointments. Because of that simplicity I offer the balloon package very cheaply at only $25 for all the birthday party kids.
A Variety of Kids Party Entertainment options
Some other totally different options for your child's Birthday party are;
Bubble Show – Its fun and visual and more suited to a larger venue but because demand is quite high for a quality bubble show for kids I am working on a no-mess show that can be done in your lounge room.
Magic Tuition – I am very surprised that this is not considered when looking for kid's party entertainment ideas. Kids love learning magic. So why not have a magic workshop which is ideal for the older kids of 7+. They will learn some very cool magic and I have some special magic cards they can keep.
Balloon Twisting Workshop – a fabulous 'hands on' active workshop. Ideal for energetic kids. Its big, bright, colourful, creative and educational, yes, the kids get to learn some new skills. Definitely consider the balloon twisting workshop…its crazy fun!
Bubble Workshop – this new workshop idea does require a table and chairs for the kids, so it's not going to be suitable for every kid's birthday party, BUT, it is a lot of fun. A quiet activity for the more reserved sort of kids.
I have been involved in kids party entertainment since I was a kid and I have always loved making kids laugh, its like a challenge to get kids smiling and one I enjoy so I am in the right job.
You can rest assured that your kids will be having the best birthday party ever and one they will remember for the rest of their lives
I hope to see you soon.