Magic Glen Voted #1 Kids 
Magician in BrisbanE for 4-7 year olds Birthday Parties 
Brisbane Kids Magician
Kids Magician – Magic Glen: "It is so much fun entertaining children… I always have a great time and so do the kids (and adults)". If you are looking for fun birthday party magic show, then Brisbane's 'Magic Glen' – the specialist kids magician, has the solution.  Discover How To Make Your Child's Birthday One of the Happiest & Most Memorable Days of Their Life.
Dear Parent,
Imagine a Kids Birthday Party so filled with laughter and joy that your child remembers it forever. Impossible..? I guarantee it! Your child is the star of an 'Individually Personalised' Birthday Party Magic Show that features:
Hilarious Comedy
Amazing Magic
Audience Participation
$20M Public Liability Insurance
Giveaways For All The Kids
'Free' Party Invites
Blue Card Accredited
100% Satisfaction Guarantee
Discount for Weekday Bookings
Balloon Twisting Party (Optional feature)

"All the children, teachers and librarians were captivated by your performance… any organisation would be very fortunate to have a magician with your talents and skills to entertain their staff, but especially children!" — Lisa Kruesi. Royal Brisbane Hospital, Health Sciences Librarian
Discover how easy it is to throw a 'stress free' party and create wonderful memories that'll last a lifetime. Don't risk disappointing you or your child. Sit back, relax, take a break… while the children (and adults) are enjoying Brisbane's Best Birthday Party Magic Show… ever! I offer a couple of different entertainment packages. How much? Please submit the form below for immediate access to the entertainment package details.

"We have some lovely photos of happy smiling faces, eyes wide with wonder and delight…Thanks once again" ​ Tom Treston, Birthday Party
A Typical Kids Magician Party Format
0.00hr Advertised birthday party start time. Kids start arriving at the party
0.15hr By this time all kids have arrived. Magic Glen arrives to set up and the kids are welcome to watch and chat to Magic Glen during this time.
0.30hr Magic show starts. You now have 45-55 minutes to relax.
1.15hr Magic show finishes. Free gift is explained and handed out to all the kids. If required, balloon animals are handed out. Party bag contents are explained.
1.20hr Magic Glen says goodbye. Kids are led away to cut the birthday cake, sing happy birthday and have snack and a drink.
1.45 Kids have finished eating and have about 10 minutes of free time to play in the garden.
1.55 Parents start arriving to collect their child. Goodbyes.
2.00 The party is over. Your home is quiet. You have had a stress free party. The kids have been entertained and your child is feeling rather special.
Note: A typical birthday party duration is 2 hours.
My start times are 10.30am, 12.30pm, 2.30pm and 4.30pm – 7 days
How many kids should you invite to the birthday party?
The more the merrier. Typically a party has between 10-25 children. I have done a party for 1 child and school show for 600 kids, Ideally I think a minimum of 15 kids should be invited ​
You'll Get Great Results Like This Too!!!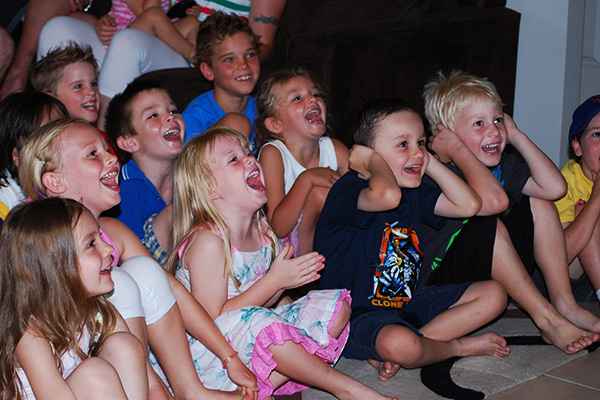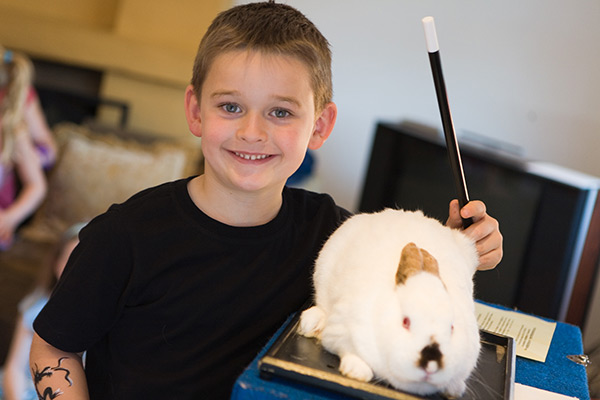 A Magic Show Suitable for ALL kids
Magic Glen is conscious that not all kids are the same, some are more outgoing and some are quiet and reserved. The birthday party magic show style is adjusted to suit the temperament of the birthday child and their friends. You can rest assured that your child will be treated with the upmost consideration and that the hilarious magic show is suitable for all kids, boys and girls.
Kids Magician also has a Magic Show show suitable for a…
School Fate
Christening
Shopping Centre
Kindergarten
Corporate Event
OSHC
Festival
Celebration
Primary School
Family Day
Special Event
Day Care Centre
Teenager
Promotion
Fundraiser
Christmas Show
"I thought your show was Fantastic!  Maddy is still talking about all the fun she had. I can say that the children and parents' reactions  were the best I have ever seen at any children's party" 
Ruth Cory, Birthday Party

A Very Funny, Interactive Kids Magic Birthday Party By Your Favourite Kids Magician
What you get is…
Magic Glen – experienced, reliable, polite, professional and above all else…Funny!

45 minute show – this is the perfect duration for 4-7yr olds

Interactive Show – kids are totally engaged for the entire duration

Star of the Show – Your child participates in the coolest tricks and makes a live rabbit appear

A Very Funny Show – lots of appropriate comedy that kids love

Free Party Invites – download them from www.KidsPartyMagic.com.au

Free Gifts – yes, free gifts for all the kids

A Stress Free Party – You get to relax and leave the entertaining to me

Happy Birthday Child – your child and their friends will have been laughing and laughing, it will be the talk of the classroom.

Balloon Animals are optional – add $25 and all the kids get a balloon animal

Party Bags are optional – $3 eac

h
Magic Glen' is a full-time Brisbane based birthday party kids magician servicing Brisbane, Sunshine Coast and the Gold Coast. Amazing as it may seem, 'Magic Glen' has performed at over 3000 birthday parties in Brisbane and given out over 15000 party bags… Wow that's a lot of party bags.
As a kids magician in the birthday party market his goal is to give parents a 'Stress Free' birthday party that will be enjoyed by the children AND… the adults.
After 15 years as a professional kids magician, Magic Glen is still the busiest children's birthday party kids magician in Brisbane… Why? It's simple…he has a great birthday party magic show that kids (and adults) just love. You don't see 'Magic Glen' advertising in Brisbane parenting magazines or on Google…he doesn't need to… most of his birthday party bookings come from repeat business and referrals…once you experience Brisbane's funniest birthday party kids magician…you will be recommending him as well! 'Magic Glen' is a parent and knows exactly what makes kids laugh… He is a natural kids entertainer as well as kids magician with a big smile, a funny face and cheeky personality… the perfect combination for a birthday party kids magician.
In 2008 'Magic Glen' was voted Brisbane's birthday party kids magician.
The real test for 'The Best' birthday party kids magician in Brisbane is to read the glowing testimonials from happy parents just like you… and take a look at the childrens faces on this site…beaming with delight and happiness… and enjoying one of the most memorable days of their lives… that's his promise to you. Magic Glen – The funniest birthday party kids magician in Brisbane?… Book his birthday party magic show…and you will know why!